Welcome to Fraternity and Sorority Life at Appalachian State University!
Our Mission
We are committed to the holistic development and success of all students, the cultivation of inclusive spaces and communities, and the fostering of meaningful relationships and lifelong learning.
Appalachian State University has been the host of fraternities and sororities for more than 40 years. Today, Appalachian has over 2,000 students holding membership in 35 organizations. The Office of Fraternity and Sorority Life (OFSL) focuses on scholarship, community service, philanthropy, leadership development, and friendship. Several of Appalachian's most distinguished graduates are members of fraternities and sororities.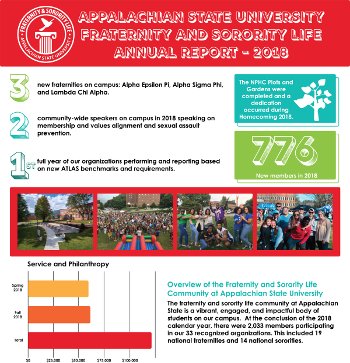 Our Values
Service – Fraternity and sorority members are committed to giving back and serving the community through mutually beneficial experiences.
Scholarship – Scholastic standards are a vital part of the fraternity and sorority life experience. Our organizations recognize that academics are the reason why their members attend college. Therefore, our community is committed to academic achievement through chapter support, individual accountability, incentive programs, and utilization of campus resources.
Friendship - Fraternities and sororities provide a sense of brotherhood and sisterhood through retreats, social interactions, programming with other chapters and campus entities, parent events, alumni activities, and continued practice of ritual.

Leadership – Members believe that success for the individual and the chapter is dependent on developing skills and personal qualities that enhance the growth and potential of each individual member.
Contact Us
Rm. 244, Plemmons Student Union
P.O. Box 32034
263 Locust Street
Boone, NC 28608
If a business would like to be involved with Greek Life, please email greeks@appstate.edu.
Please note that the university does not give out contact information for students. This includes emails for Chapter Leadership.
We are sorry for the inconvenience.
Please do not call the McCaskey Center with solicitations, you will be referred to the above email.